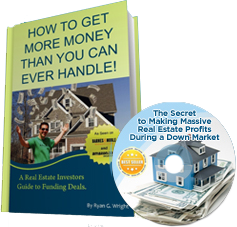 This page is where you can request a free digital copy of my real estate investing book and CD.
The title of my book is How to Get More Money Than You Can Ever Handle!, and it has helped thousands of new REIs get their start in the business and avoid many of the growing pains I went through myself.
Watch the short video below for more info on the book, or use any of the forms on this page to request your free copy for instant download.
"Here's Exactly How I Went From Dead
Broke To Wildly Wealthy By Flipping
Homes… Using Other People's Money!"
Does Any Of This Strike A Chord With You?
A Message From Ryan G. Wright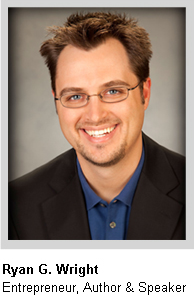 Have you considered investing in real estate but didn't think you could becuase of your financial or credit situation?
Do you want to have the freedom to do what you want and when you want because of a substantial increase in your income?
Are you fed up with just getting by in life . . . living paycheck to paycheck?
Have you been looking for a way to insulate your family and finances from the devastating effects of a recession?
Would you like to stop slaving away working for someone else, always wondering in the back of your mind if your job is in jeopardy?
Does Any Of This Strike A Chord With You?
My name is Ryan G. Wright. Back in 2000, I was a dead broke, credit-less 21 year old kid with big aspirations and absolutely no clue what I was doing.
Today, my life is totally different because I stumbled into real estate . . . and over the last decade plus, I've been painstakingly documenting what's worked and hasn't worked for me in the more than 500 real estate transactions that I've been involved in.
I've used this information to develop brain dead simple systems that allow anyone to start from NOTHING to raking in $11,431 . . . $26,578 . . . and even $42,944.72 (*See the attached closing statement for Sandy Utah Property for proof) checks in as little as 90 days.
Hundreds of people across America have paid me good money to teach them how to get massively wealthy -- just like I did -- through buying rehabbing and selling real estate with no money, no experience and no credit!
The best part is that most of these people are just "average joe's" like you and me.
Do You Want to Discover the Tools That Can Make You Wealthy Investing In Real Estate . . . For Free?
I've written all these tools, tips and learning experiences down in my free ebook and want to share them with you for absolutely nothing on your part.
All you have to do to get your digital copy of my book is simply fill out the form below.
After completing the form, you will receive an email with links to download digital versions of the book and CD.
And that's it! I hope you take advantage of this and get started on your path to success.
To your future profits,